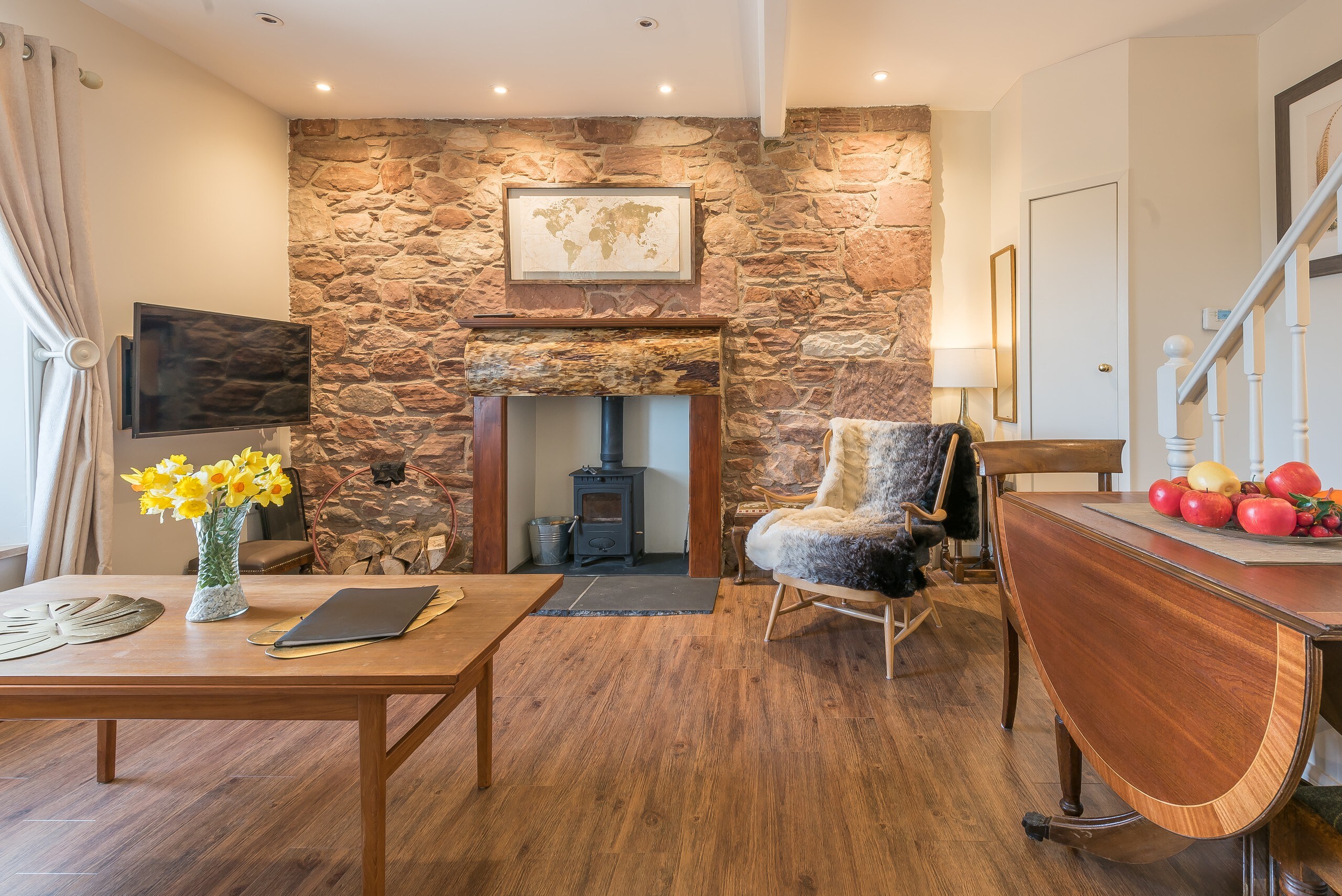 Traprain Cottage is a charming country cottage located in a tranquil rural setting, perfect for exploring country, coast and city.
Step inside and you will find a cosy sitting room with a wood burning stove, ideal for hunkering down and enjoying those coorie in days or relaxing after a day outdoors.  Also located on the ground floor is a beautifully appointed bedroom with a king size bed, a unique, well-equipped kitchen with all the essentials for holiday living and views to the back garden, a small WC and a back door leading out to the garden where there is a hot tub and seating area.  Take a dip in the hot tub and immerse yourself in the peaceful surroundings and vast views across the rich rolling countryside.
A set of stairs leads up to the master bedroom with a super comfortable super-king bed and a luxurious bathroom with a double ended bath ideal for a seriously sumptuous soak, as well as a shower, WC and wash basin.
The private garden to the front of the cottage is the best spot for some morning sun with a coffee, a picnic lunch or an evening feast whilst watching the dramatic sky and colours shift over the hillside.  There is a fire pit and log seating area in the woodland next to the cottage – ideal for marshmallow toasting and campfire singalongs.  There is also plenty to spot in terms of wildlife, including hares, badgers, owls, rabbits, bats and myriad birdlife.
Feeling adventurous?  Why not take part in some of our activities… Learn how to do a downward facing dog on a paddle board on the middle of the Danskine Loch, go foraging for your supper with a funghi expert, or try mindful loch swimming.  Go to the 'Play' section of the website to find out more!
At the heart of the farm, just a short walk from Traprain Cottage, you will find Carfrae Farm Shop – a beautiful converted barn full of nooks and crannies to browse wonderful local and Scottish products, as well as a few treats from around the globe.  Fancy arriving to a fully stocked fridge?  Simply pre-order before your arrival and we'll do the rest. Click here to view our shop website.
Our Farm Shop, which is well stocked with a huge range of locally produced products, is a few hundred metres from the cottage. Click here if you would like to browse our products and place an order from the Farm Shop before you arrive.
A complimentary Welcome Hamper with local produce supplied from our farm shop will be in the cottage on your arrival.