We are excited to open our stunning new Farm Shop on Friday 16th to Sunday 18th September, 10am to 3pm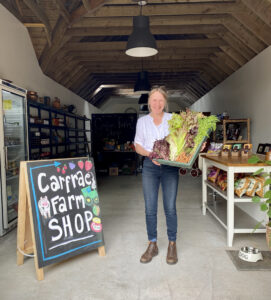 Come along and try some free samples, enjoy a welcome 10% discount, take part in the Prize Draw, or grab a treat and our route map and go for a stroll to enjoy the beautiful scenery of the rolling Lammermuir Hills and views across East Lothian.  
We are passionate about good food and local produce and, as members of Scottish Agritourism, we wanted to open a farm shop that provides an opportunity for our holiday guests and local community to discover the many wonderful food producers in East Lothian as well as throughout Scotland.  
Carfrae Farm Shop is located in a converted barn at the heart of the farm and has had many uses over the years, from housing Clydesdale horses in the 1950s to a piggery and then a grain store.  Today, the barn is now a beautiful space with lots of nooks and crannies to browse.
The shop is bursting with delicious local and Scottish food produce, as well as a few treats from around the globe.  We also stock a unique range of alcohol (have you ever tried Scottish potato vodka? It's delicious!) and stunning cards and gifts.  While promoting local producer's products, we are also collaborating with other members of Scottish Agritourism to stock their products; this mix of producers ensures high quality and shortens the supply chain as much as possible.
We have a fantastic range of Zero Waste household products and store cupboard essentials, with the ability to reuse and refill every bottle to create a completely zero waste supply chain. We also offer free refills of Purely Scottish natural mineral water which is extracted from a borehole in the Lammermuir Hills on a protected site registered with the Scottish Organic Producers Association.
Our Opening Hours will be Tuesday to Sunday 10am – 3pm. We look forward to seeing you soon!